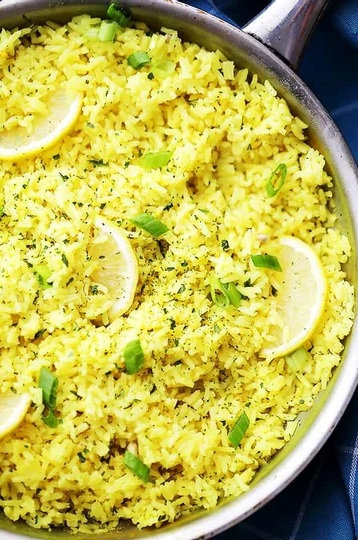 Lemon Rice
Ingredients
1 1/2

cups basmati rice

3

cups of water

1/2

tsp. salt

1-2

tsp. chana dahl

1-2

tsp. urad dahl

1/4

cup onion (minced)

3

tbsp. lemon juice

1

tbsp. raisins

1

tbsp. nuts

1/4

cup minced cilantro
Instructions
Wash rice with 5-6 changes in water until water is clear. Once boiling, turn heat down to simmer.

Add 1 ½ cups of rice, 3 cups of water, ½ tsp. of salt to a pot, cover and bring to a boil.

Cook until water is absorbed. In a skillet sauté, chana dahl and urad dahl, add minced onion and sauté until lightly browned.

Stir contents of skillet into cooked rice. Add lemon juice, cilantro, raisins, and nuts to rice.