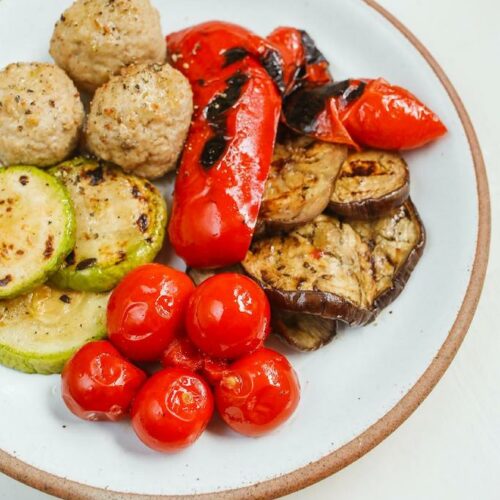 BBQ Marinade for Grilled Meats and Vegetables
Burning vegetables can form carcinogens. To avoid this put vegetables on the grill over indirect heat.
A study from Journal of Food Chemistry found that grape seed and rosemary extract inhibit the formation of hetercyclic amines. A marinade that includes, rosemary, lemon juice and vinegar, could protect you from any potential hazards in grilling vegetables and meats.
Cooking meat at high temperatures in grilling can generate cancer causing substances HCAs  (heterocyclic aromatic hydrocarbons and PAHs polycyclic aromatic hydrocarbons.
These substances alter the DNA that may in turn increase risk of cancer.
Three steps for cancer safe grilling
1.     Marinate to decrease the harmful carcinogens
2.     Grill more vegetables and fruits
3.     Go lean-cut the fat off the meat
This recipe is good for decreasing the cancer -causing compounds that occur during grilling. Using the lemon and rosemary are high in antioxidants which will protect you. You can use this recipe with beef, pork, chicken, fish or veggies. It is simple to make and only has 5 ingredients. It can be stored in the refrigerator for 10 days.
Ingredients
3

Large Lemons

1/4

cup

rosemary leaves

or 2 TBSP dried rosemary

1/4

cup

olive oil OR avocado oil

2

cloves

minced garlic

or 2 TSP garlic powder

2

TSP

salt

1

TBSP

Dijon Mustard

(optional)
Instructions
Preheat the grill for medium-high heat and lightly oil the grate.

Cut the lemons in half & juice with a lemon press.

Add the remaining ingredients and mix.

Marinade your meat for 1-3 hours in the mixture, (keeping in the refrigerator if marinating longer, some people like to marinade the meat overnight ) Marinate your vegetables for 30 minutes to 1 hours. You can marinate eggplant, zucchini, peppers and onions. 

Grill your meat until it reaches at least 160 degrees about 10 minutes on each side.
Notes
This recipe is fresh and light which is great to celebrate summer.