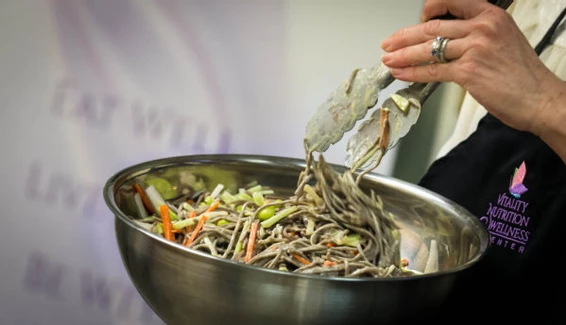 VEGAN NOODLE SALAD
This recipe makes the perfect winter meal. This healthy noodle salad is simple to make and delicious!
Ingredients
1

Cup Kale (Chopped)

1

Package of Noodles (Preferably Udon Noddles)

3

Cups Shredded Red Cabbage

1/2

Cup Shredded Napa Cabbage

2

Cups Shredded Carrots

1

red pepper

1/2

Cup Pumpkin or Sunflower Seeds

1/2

Cup Dried Cranberries (Fruit Sweetened no HFS)

1/2

Cup Non-GMO Edamame

3

Tablespoons Peanut Butter

3

Tablespoons Rice Vinegar

1

Tablespoon Lime Juice

3

Tablespoons Olive Oil

1

Tablespoon Soy Sauce

4

Tablespoons Honey

1

Clove Minced Garlic

1/2

inch piece of ginger

1

Teaspoon Sea Salt

1/2

Teaspoon Sesame Oil
Instructions
In a large pot, bring 6-8 cups of water to a boil. Add noodles and cook following instructions on the box. Drain noodles and set aside.

Add edamame to noodles; heat from noddle will defrost edamame.

Chop kale, shred cabbage, pepper, and carrots.

In a blender, combine peanut butter, rice vinegar, lime juice, olive oil, soy sauce, honey, garlic, ginger, salt, and sesame oil, blending until smooth.

In a large bowl, combine the noodles and edamame, vegetables, pumpkin or sunflower seeds, cranberries, and dressing. Lightly mix together until dressing is evenly distributed. Serve immediately, enjoy mindfully!