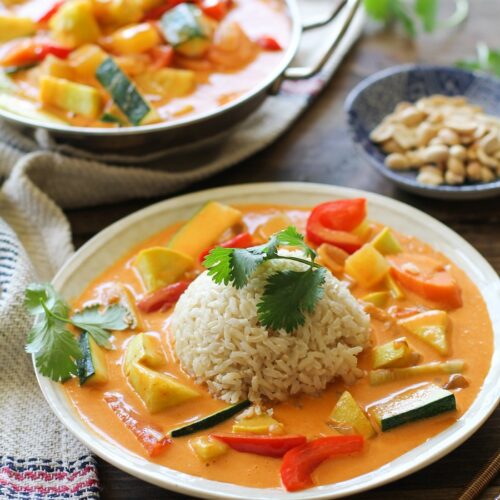 Thai Red Curry
Ingredients
1

cup broccoli (chopped into small pieces)

1

cup green beans (cut beans into 1 inch pieces)

1

red pepper (sliced into thin strips)

1

green pepper (sliced into thin strips)

1

zucchini (sliced)

1

can bamboo shoots

1

onion (thinly sliced in 1 inch pieces)

1

can of coconut milk

1

can of Maesri Red Curry Paste (4 oz can) or Thai Kitchen Red Curry

1

tablespoon olive oil

Fresh cilantro
Instructions
Prepare vegetables by washing and slicing.

Heat large pan, on medium high heat. Add olive oil and add half can of curry paste. Whisk together.

Add onion to pan and sauté together. Cook for 1-2 minutes.

Add coconut milk and whisk together to blend curry into coconut milk.

Once mixed, add green beans, red pepper, green pepper, and bamboo shoots.

Taste your curry, if desired flavor is not achieved, add more of the curry paste. Cook vegetables on medium heat for 5-7 minutes.

Then add in zucchini and broccoli and continue to simmer on low heat for 5 minutes.

If desired top with fresh cilantro.