Sweet Potato Mash with Rosemary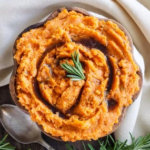 3 lbs. sweet potatoes peeled
1 tsp. extra virgin olive oil
1/2 onion diced
2 cloves garlic minced
1 tsp. fresh chopped rosemary
1/3 cup plain Greek low-fat or nonfat yogurt
Salt and pepper to taste
Cut sweet potatoes into bite sized chunks, place in pot and cover with water.

Bring to boil for 20-25 minutes or until they are preferred tenderness.

*Peel before boiling if desired

While the potatoes are cooking, heat 1 tsp. of olive oil in a medium non-stick skillet and sauté your onions and garlic along with a pinch of salt for about 8 minutes or until fragrant and translucent.

When potatoes are done, mash with masher or spoon to desired consistency.

In a medium bowl combine sweet potato chunks, onion and garlic mixture, rosemary, and Greek yogurt, blend with hand mixer or with a spoon or masher.

Enjoy! Season with a little salt and pepper to taste.