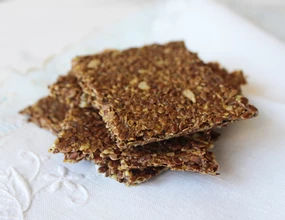 Simple Flax Crackers
Ingredients
2

cups flax seeds (soaked)

1

tbsp. salt

1

tbsp. rosemary

1/2

tsp. black pepper

1/2

cup water
Instructions
Blend ingredients in food processor.

Spread mixture on oiled foil or parchment paper on a baking sheet.

Bake at 145 degrees for an hour and a half, then flip.

Score batter into 2-inch squares.

Bake for another hour to an hour and a half.

Remove from oven, let cool and enjoy!