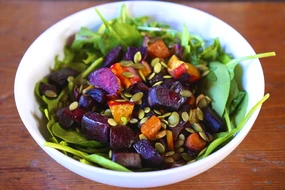 Roasted Root Vegetable Salad with Citrus Dressing
Ingredients
Roasted Root Vegetable Salad
5-6

cups peeled and diced root vegetables (choose 3 or 4 from parsnips, turnips, sweet potatoes, daikon radish, red or golden beets, black radish)

1

diced red apple

1

small or medium fennel bulb, sliced

2

tablespoons extra-virgin olive oil

1

tablespoon maple syrup or agave nectar

1/2

teaspoon dried thyme

1/2

teaspoon dried basil

salt and pepper to taste

3-4

ounces mixed baby greens

1/4

cup toasted pumpkin seeds
Citrus Dressing
juice of 1 orange (about ¼ cup)

1/4

cup extra-virgin olive oil

2

tablespoons lemon juice, or more, to taste

1

teaspoon prepared yellow mustard
Instructions
Preheat the oven to 425 degrees. Dice or slice the root vegetables fairly evenly and not too thinly. If you are using parsnip or daikon radish, slice them into pieces about ½ inch thick; cut other vegetables into ¾-inch pieces.

Combine the cut vegetables with the apple and optional fennel in a large mixing bowl. Add the olive oil, syrup, thyme, and basil and stir together.

Transfer the mixture to a lightly oiled large roasting pan. Bake for 25 to 35 minutes, stirring every 10 minutes or so, until the vegetables are just tender and golden brown in spots. Remove from the oven and allow to cool to room temperature. Season lightly with salt and pepper.

Combine dressing ingredients in a small bowl and whisk together.

When ready to serve, combine the roasted vegetables with the greens in a serving bowl. Drizzle in enough citrus dressing to moisten the salad and toss gently. Scatter the pumpkin seeds over the top and serve.