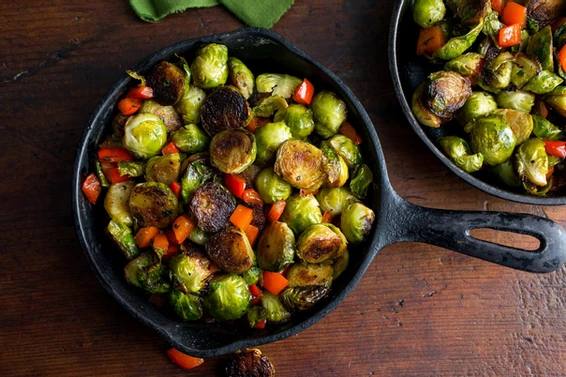 ROASTED BRUSSEL SPROUTS
These are so quick and easy! They're perfect for the holidays, or any time of the year for that matter! These crunchy brussel sprouts are given a fresh kick of lemon and the roasted pecans add the perfect touch! This side dish can be prepared in only 30 minutes!
Ingredients
2

lbs brussel sprouts

1/4

cup extra virgin olive oil

1

tsp course sea salt

1

red bell pepper cut into 1/2 inch strips

zest one lemon

1/2

cup roasted pecans chopped
Instructions
Preheat the oven 500 degrees. Trim the brussel sprouts and remove any blemished leaves. Cut in half from stem to top. Be sure to save the leaves that fall off. Place the sprouts in a bowl. Add the olive oil and the salt. Toss together. Place on baking sheet and put in oven.

While the sprouts are in the oven, slice the red bell paper and zest the lemon. You can use a grater. After 10 minutes, when sprouts are starting to brown, remove the baking sheet and add the pepper and lemon zest. Mix well. Return to the oven.

Roast the sprouts for another 10 minutes. They will be done when the outside leaves are brown and caramelized but the insides are still somewhat firm. Don't overcook! Remove from the oven, stir in the pecans and enjoy.