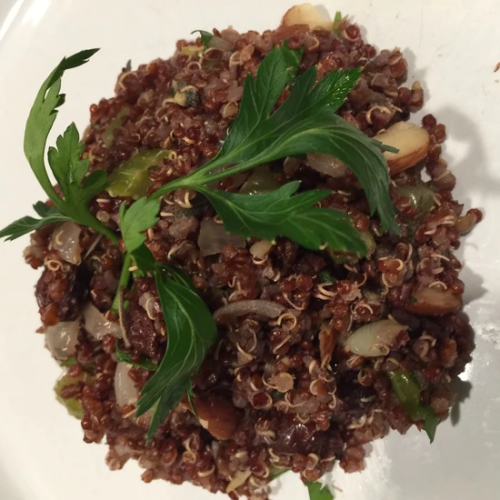 QUINOA PILAF
The holidays should be a time to come together and celebrate what we are grateful for. Don't spend all day working in the kitchen and stressing yourself out! This recipe is sure to please everyone this holiday season! It is warm and comforting as well as full of vitamins and minerals that will nourish your body! The best part about this recipe is that it can be made in under 45 minutes! This can be a side dish to accompany your traditional holiday meal, or served over a bed of lettuce in a salad for leftovers the next day!
Ingredients
1 1/2

cups quinoa

3

cups veggie broth

2

cups of diced onion/shallot/celery mix

1/2

cup dried cherries

1

tsp dried sage

1

tsp coriander

1/2

inch piece of ginger – grated

3

bay leaves

1/2

cup sliced almonds

Fresh thyme sage, and parsley to taste

2

tbsp olive oil
Instructions
Toast quinoa over medium heat until golden brown.

Add veggie broth and bring to a boil. Add bay leaves and dried cherries and continue to simmer on med/low until most of the liquid is absorbed.

While quinoa is cooking, toast almonds in a separate pan on on med/low heat for 1 – 2 minutes.

Sautee shallot/onion/celery mix with grated ginger in olive oil. Add dried sage and coriander. Sautee until onions are soft and translucent. Set aside.

Remove bay leaves and transfer quinoa to large bowl and mix in sautéed veggie mix. Top with toasted almonds and fresh herbs to taste!