This was inspired by a cold Friday morning when I was going to spend time with my granddaughter on the 5th day of a detox. I love the creativity that comes when I am cleansing my body.
My home smelled divine! Do you know that feeling you get when good food is cooking? I am curious to see what you think, so please let me know.
As always use what you have in your kitchen and substitute what you don't like.
This recipe is not using onion or garlic so it is SIBO friendly. If you have difficulty with bloating and gas you may find relief with this recipe. If you want to use onion and garlic it will make the soup even more delicious and there are many health benefits of onions and garlic.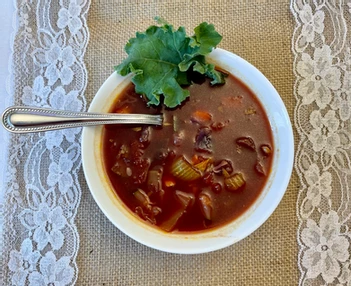 Not your Typical Veggie Soup
Ingredients
1

tsp garlic-infused olive oil or plain olive oil

1

TBSP black cumin seeds

1/2

diced red pepper

3

stalks chopped celery

3

diced carrots

1/2

cabbage (I used purple but green is also good)

2

stalks broccoli

1

zucchini

1

can diced tomatoes

2-4

cups water (depending on how thick you want your soup)

1

tsp coriander

2

tsp curry powder (I used Frontier)

1-2

tsp salt

Grated fresh ginger

Pepper to taste
Instructions
Heat a 4-quart saucepan on high and add the cumin seeds. You are dry roasting the seeds for a minute or two. You will smell the aroma, (Don't heat too long) Add 1 tsp oil, and the peppers and celery. Sautee, smelling the aroma, (Don't heat too long) Add 1 tsp oil, and the peppers and celery. Sautee for a couple more minutes

Add the Carrots and diced tomatoes

Add the spices, coriander, curry powder, and salt

Chop the cabbage and cut the broccoli stalks and zucchini into cubes

Add water start with 2 cups and add more while cooking as you wish

Cook on high for 5 minutes

Add the broccoli and zucchini while you lower the heat to low for another 10 minutes

Add the grated ginger (about ½ inch) or to your taste.
Notes
Taste and enjoy! With any recipe adapt any way you prefer.