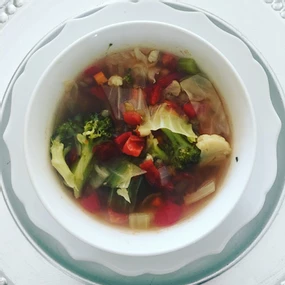 LENTIL VEGGIE SOUP
This soup is loaded with nutrients from veggies! The mix of cruciferous veggies as well as onions, celery, carrots, and tomatoes makes this colorful soup a staple in our kitchen. It is very easy to make and is very customizable based on what vegetables your family enjoys.
The broccoli provides vitamins K and C, as well as fiber. 1 serving of cauliflower contains 77 percent of the recommended daily value of vitamin C. It's also a good source of vitamin K, protein, thiamin, riboflavin, niacin, magnesium, phosphorus, fiber, vitamin B6, folate, pantothenic acid, potassium, and manganese (who knew)!
Carrots contribute beta-carotene and the tomatoes add in lycopene. Lentils give us a boost of fiber, protein, iron and B vitamins. Combining the rich vitamin C with the lentil makes it very absorbable. Additionally, barley is a great whole grain to throw in! Barley is a great anti-inflammatory grain.
Ingredients
1

tbsp olive oil

1

large onion chopped

3

cloves minced garlic optional

3

pieces celery chopped

3

large carrots chopped

1/2

head cauliflower chopped

1/2

head cabbage chopped

1

cup broccoli chopped

1/2

cup green lentils

1 14

oz can diced tomatoes

1/2

cup barley optional for Gluten Free!

1

tsp salt

1

tsp garlic powder

1/2

tsp pepper

1/4

tsp ground turmeric optional

1/2

tbsp Italian seasoning

1

bay leaf

8

cups water

3-4

tbsp better than bouillon soup base adjust to desired broth taste
Instructions
Heat oil in a large soup or stock pot. Add the chopped onion, minced garlic, the carrots, and the celery. Heat, stirring, for 3-4 minutes, until onions are soft. Add the rest of the vegetables and heat for just another minute or two.

Add salt, pepper, garlic powder, Italian seasoning, and turmeric. Stir, coating veggies for 1-2 minutes

Add water, boullion, bay leaf, lentils, and barley. Stir until boullion dissolves. Bring to a simmer.

Add tomatoes and cook for another 20-30 minutes. Adjust spices to taste.

Remove bay leaf and serve with a toasted piece of whole grain bread!
Notes
Water and bouillon mix can be substituted for veggie broth – be careful of salt content!
Cook longer or shorter depending on desired texture of veggies!
Leave out barley to make this recipe gluten free!