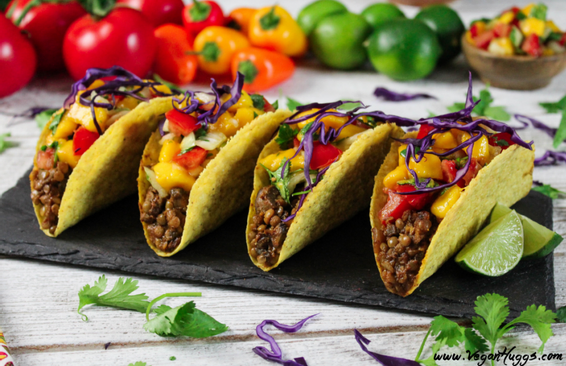 LENTIL & MUSHROOM TACOS WITH MANGO SALSA
These lentil tacos will leave you satiated and full (of nutrients)! These are very quick and easy to make. They are also kid friendly, and can be made gluten free depending on the taco shells you choose to use!
Ingredients
Mango Salsa
1

tbsp olive oil

2

cups mango diced

1/2

cup cilantro chopped

1/2

cup onion diced (red onion works best)

1

jalapeño seeded and diced (optional)

1

tsp salt to taste

1 1/2

tbsp lime juice fresh

2

tsp sugar optional depending on sweetness of the mango
Lentil Mushroom 'Meat'
1

tbsp olive oil

1/2

cup onion diced (I used yellow onion)

2

cloves garlic minced

1

tbsp tomato paste

1 1/2

tsp chili powder

1

tsp cumin

1

tsp oregano

1/2

tsp paprika

1/4

tsp cayenne optional

1 1/2

cups mushroom diced

1

cup dried lentils red or brown

2

cups veggie broth low sodium

1

bay leaf

1

tsp salt to taste

pepper to taste

8

taco shells hard or soft
Instructions
Mango Salsa
Toss all ingredients together until well combined.
Lentil Mushroom 'Meat'
Heat the oil in a large pan over medium heat. Once heated, add the diced onion and a sprinkle of salt. Sauté until soft & translucent, about 3-5 minutes.

Add the mushrooms and sauté until mushrooms release some liquid, about 2-3 minutes.

Now add minced garlic, tomato paste & spices. Cook until mushrooms are tender & lightly browned, About 2-3 minutes

Add lentils, vegetable broth, bay leaf, salt & pepper. Bring to a boil, then reduce to a simmer. Cover and let mixture cook for about 20-25 minutes, until lentils are tender.

Uncover and cook for another 5-10 minutes, or until liquid cooks down & mixture is thickened. Remove bay leaf.

Now the fun part -spoon the filling into your taco shell and dress up to your liking. Enjoy!
Notes
*Makes about 8 Tacos.
*Vegetable Broth: Low sodium broth is not only healthier, but you can better control the salt content of the meal. Remember; you can always add but you can't take away!
*Extra topping ideas: Purple cabbage, vegan sour cream, vegan ranch dressing, or hot sauce