These oats were inspired by a cold snowy evening. When you wake up, you have a home filled with a delicious heart warming breakfast. In addition to this breakfast being hearty and comforting it is filled with fiber, slow carbs, and spices that are anti-inflammatory and it has no sugar.
Top with chopped nuts and you will have a meal that will keep you satisfied until lunch!
Heart Healthy Spiced Oats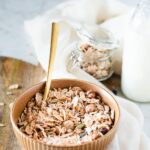 1 cup organic steel cut oats (We like Bob's Redmill)
1 can coconut milk (Trader Joe's is our favorite)
3.5 cups water
1 cinnamon stick
1 tsp cardamon or 3-4 cardamon pods
1/2 inch grated ginger
1/4 inch turmeric (optional)
1/4 tsp sea salt
4 chopped dates
Add the above ingredients to the crockpot and turn on low. It should cook for 7-8 hours.

Before serving add 1 tsp ground organic flax, 4 chopped walnuts, and a pinch of love. Add milk to desired texture

Eat mindfully. Bon appetit!