Healthy Holiday Apple Crisp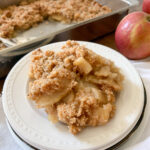 4-5 baking apples
2 tsp. cinnamon
1 cup oats
1/4 cup walnuts
5-6 dates
1 tbsp. coconut oil
1/2 teaspoon salt
2 tbsp. water
2 tbsp. flax meal
Preheat oven to 350 degrees.

Peel and slice apples. In a 9" pie pan, mix sliced apples and 2 tsp. of cinnamon.

In a food processor, pulse together oats, walnuts, dates, coconut oil, salt, water, and flax meal, until combined. Do not over blend.

Add the topping to the apples.

Bake for about 40 minutes or until apples are tender and topping is golden brown. Enjoy warm!