HEALTHY GLUTEN FREE PUMPKIN PIE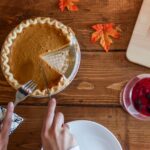 Gluten Free Pie Crust
1/4 cup brown rice flour
1/4 cup potato starch
3 tbsp Tapioca flour
1 tbsp organic cane sugar
1/3 cup coconut oil Solid
1 large egg
3 tsp water
Pie Filling
2 cups canned pumpkin or sweet potato Non BPA lining
1/4 cup brown sugar
1/2 tsp salt
1 1/2 tsp cinnamon
1/2 tsp freshly grated nutmeg
1/4 tsp cloves
1 tsp freshly grated ginger
2 eggs
1 1/2 cup canned coconut milk not light
Crust
You can mix by hand or with a standing mixer. Combine the brown rice flour, potato starch, tapioca flour, sugar, and salt. Mix to combine.

Add the coconut oil. If it's a hot day and the coconut oil is liquid, put it in the refrigerator until it solidifies. It won't work very well in the recipe if it's not solid.

Add the egg and water and mix on medium-low until fully combined and the dough starts to come together.

Turn off the mixer, and gather the dough with your hands into a ball. It's not necessary to chill the dough. It's actually kind of hard to work with when its cold

With your palms, press the dough into a flat disc.

Place the dough between two pieces of waxed paper, and with a rolling pin, roll it into approximately a 12-inch disc.

Remove the top piece of wax paper. Put the pie plate, open side down on top of the dough and carefully invert the dough into the pie pan.
Filling
In a large bowl, combine the pumpkin with the sugar, salt, cinnamon, nutmeg, cloves, and ginger. Stir until fully combined. Add the eggs and coconut milk, and stir until fully mixed.

Pour custard mixture into pie shell. Bake in the middle rack at 425 for 15 minutes

Reduce temp to 325 and bake for an additional hour. When the crust is golden brown and the filliing is fully set, remove the pie from the oven and allow it to cool before slicing.
You can use pre-made crusts or a graham cracker crust. Another great way to enjoy is to bake in a ceramic cup for a healthier option but a great sweet treat for winter. It only takes a few minutes to mix up and bake it in the oven while getting ready for the day. The whole recipe will give you 8-10 servings of pumpkin custard with minimal amounts of sugar and full of fiber, phytonutrients, and anti-oxidants.
I don't like my pumpkin pie too sweet but if you prefer you can also add 1/4 cup more sugar.
I like to use fresh herbs. If you want to use dried you can, but you will use less ginger if you choose to use dried.
This recipe is a great way to keep it dairy-free while maintaining a great texture.
To make this pie, vegan you can use 2 TBSP flaxseed meal with 4 TBSP water or arrowroot in place of the eggs!