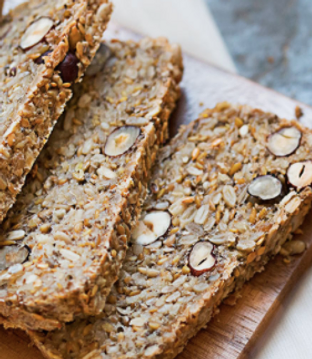 Gluten-Free Bread
Ingredients
2

cups raw sunflower seeds

1

cup flax seeds

1

cup almonds

3

cups rolled oats

4

tablespoons chia seeds

6

tablespoons psyllium husk powder

2

teaspoons sea salt

2

tablespoons maple syrup

6

tablespoons coconut oil, melted

3 1/2

cups of water
Instructions
Use a little bit of solid coconut oil to grease the inside of 2 bread pans.

In a food processor combine 1 cup sunflower seeds, ½ cup flax seeds, 1 cup almonds, and 2 cups of oats.

Blend until smooth. In a large bowl, combine all the dry ingredients and stir well. In a separate medium bowl whisk together the maple syrup, oil, and water.

Add the liquid ingredients to the dry, and mix together with a spatula. At first, the mixture will seem watery; keep stirring until the dough thickens and fully absorbs the water.

Pour the dough into the bread pans. Smooth the top of the dough with the back of a spoon.

Let the dough rest for 2 hours.

When ready to bake, use a knife to separate the dough from the sides of the pan. If the loaves pull away and retain their shape, you are ready to bake.

Preheat the oven to 350 degrees.

Place the loaves on the middle rack and bake for 20 minutes. Remove the loaves from the oven and flip them upside down out of the pans and directly onto the oven rack. Bake for about 45 minutes more, but begin checking at the 30-minute mark as ovens vary. The bread is done when it sounds hollow if tapped.

Let bread cool completely before serving.