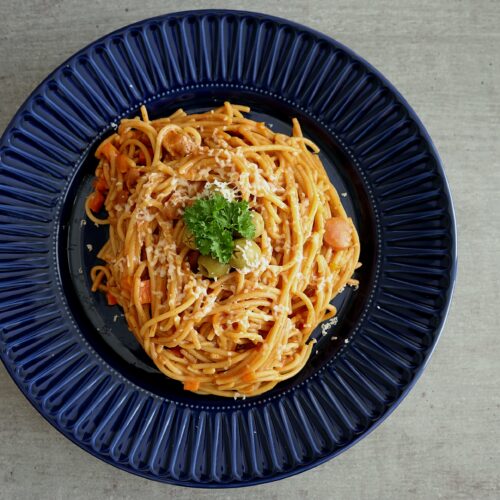 Fresh Pomodoro Sauce
This is a quick recipe make sure to prep your veggie noodles (or pasta) before starting the sauce. Fresh homegrown tomatoes make this recipe pop with flavor. Take advantage of summers bounty and harvest your tomatoes or shop at local farm stands for the best tomatoes. Make this recipe your own by following your intuition and using ingredients you have from your garden or in your fridge to make a delicious meal. If you just make the zucchini noodles and extra vegetables you can make this meal a low calorie meal and  nutrient dense; especially after a party hard weekend  when you feel you overdid it. This can make yourself feel lighter and more balanced.
Ingredients
3-4

zucchini made into noddles using a spiralizer

or 8 ounces of pasta

sea salt

1

TBSP

olive oil

4-5

tomatoes

typically not peeled however if you choose to peel them that will work as well

1/8

cup

parmesan cheese

or 1/8 cup toasted pine nuts (optional)

1

pinch

hot pepper flakes

1-2

handfuls

of fresh basil

or flat leaf parsley

fresh ground pepper to taste
Instructions
Boil water for the pasta (if you are making pasta). Add at least 1 TBSP salt to the water, it should be salty like the ocean. Cook according to package directions.

Spiralize the zucchini using a spiralizer (If you don't have you can cut the zucchini in strips to make fettucine noodles using a mandolin).

Make the sauce by adding the garlic to the food processor, blend, then add the basil and tomatoes, blend until desired consistency. You may want it to be a bit chunky or you may want the sauce to be smooth. Add salt, peppers to taste. You may want to add a little water.
You can keep the sauce fresh (not cooking it) or cook it. Both ways are delicious.
Option to sauté the sauce on medium high heat, using the olive oil and garlic for 1 minute (careful not to burn the garlic), add the tomatoes and cook until the tomatoes are softened. About 3-5 minutes. (optional)

Sauté the zucchini on high until soft. Add salt to flavor at the end. Be careful of overcooking.
Notes
Consider adding the following:
Cheese or pine nuts
Sauté Mushrooms
Sauté greens like swiss chard, kale or spinach.