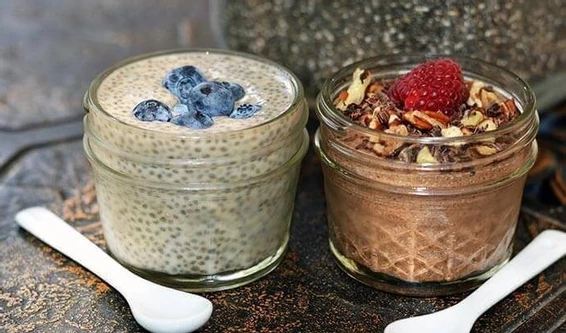 Chia Seed Pudding
Ingredients
1

cup milk (almond, soy, or coconut)

1/4

cup chia seeds

1-2

tbsp maple syrup

1/2

tsp vanilla extract

Pinch of salt

1/4

cup coconut, shredded (optional)
Instructions
Place all ingredients in a medium size bowl and mix well.

Pour into parfait cups or ½ pint mason jars.

Let sit in refrigerator for a few hours to set. May appear watery but chia seeds expand 10 times.
Notes
Add 2 -3 tsp. cacao powder if you want chocolate pudding.

If you don't want sweetener you can soak 5-6 dates and blend in with a food processor or blender.

I like to layer with blueberries, nuts, and seeds and top with a cashew cream.