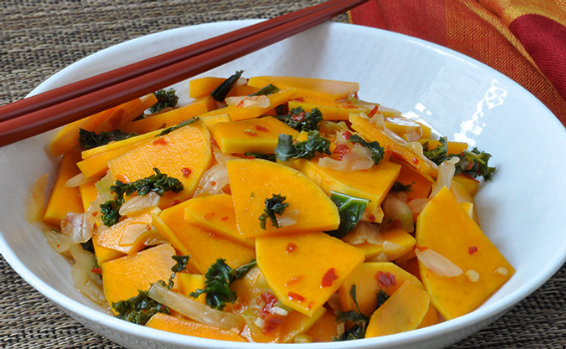 Butternut Squash Kimchi
Adopted from the Kimchi Cookbook
Ingredients
1 1/2

pounds butternut squash (1/2 of a small squash), peeled, cored, quartered, and cut into 1/8-inch-thick slices

4 1/2

cups water

2

tablespoons salt, plus 2 teaspoons

2

cups finely chopped kale) about half a bunch)

2

tablespoons Korean chili pepper flakes

1

teaspoon chopped garlic

1/2

teaspoon peeled, finely grated fresh ginger

1/2

cup mushroom broth or vegetable broth

1

teaspoon sugar
Instructions
In a large bowl, mix the squash with 4 cups of the water and the2 tablespoons of salt. Set aside for 40 minutes. Drain the brineand allow the squash to dry in the colander.

Meanwhile, in a medium colander, toss the kale with 2teaspoons of the salt and set aside for 15 minutes.

Using the colander, rinse off any excess salt with water.

In a large bowl, combine the squash and kale with the chilipepper flakes, ginger, garlic, and toss until the mixture is wellcombined. Place the mixture into a quart-sized container with atight lid.

Mix mushroom broth with sugar until the sugar isdissolved. Ladle the broth mixture into the container until 1/3 ofthe contents are covered.

Allow the mixture to ferment at room temperature for 2-3 days.

Refrigerate and enjoy within 1 month.