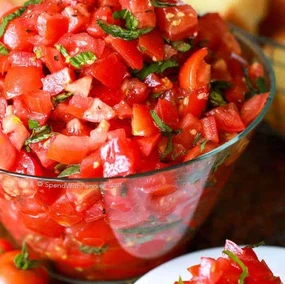 Bruschetta on Crispy Potatoes
Ingredients
2

large Russet potatoes (unpeeled)

1

tablespoon olive oil

2

medium garlic cloves

1/2

cup lightly packed fresh basil leaves

2

cups grape tomatoes

1

tablespoon fresh lemon juice

1

tablespoon balsamic vinegar

1/4 to 1/2

teaspoon fine sea salt, to taste

1

large ripe avocado
Instructions
Preheat the oven to 425°F and line baking sheet with parchment paper.

Slice the potatoes into 1/4-inch thick rounds. Toss with the oil until all sides of the rounds are fully coated. Spread into a single layer, spacing them 1/2-inch apart. Sprinkle lightly with salt. Roast the potatoes for 30 to 35 minutes flipping once halfway through baking, until tender and golden brown in some spots.

Meanwhile, prepare the topping. In a food processor, mince the garlic and basil until finely chopped. Add the tomatoes and pulse—only 10 to 14 times—until the tomatoes are chopped. Stir in the lemon juice, balsamic vinegar, and salt. Set aside to marinate.

Five minutes before the potatoes are ready, dice the avocado very small pieces. Fold the diced avocado into the tomato mixture.

After removing the potatoes from the oven, add 1/2 to 1 tablespoon avocado-tomato mixture to the potato, draining any extra liquid. Serve immediately!
Notes
*If the potatoes sit they will soften and lose their crispness. Should your potatoes become soft from sitting for too long; these reheat in a sauté pan, preheated over medium heat, for 1 to 2 minutes. This crisps the bottoms without affecting the toppings.