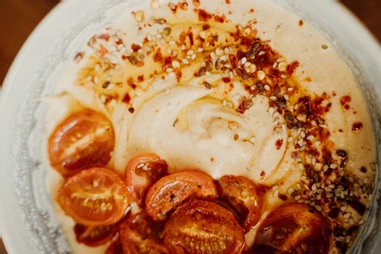 Baked Feta Pasta (Vegan)
Ingredients
1

package extra-firm tofu( 12oz)

1/2

cup cashews, soaked overnight or boiled for 30 min.

2

tbsp. apple cider vinegar

1

tsp. garlic powder

1

tsp. sea salt

1

tbsp. nutritional yeast

2 1/2

cups cherry tomatoes

2

tbsp extra virgin olive oil

2

cups penne, cooked and drained (can use gluten-free pasta)

1

handful spinach and basil
Instructions
Preheat oven to 400F. Add tofu, cashews, sea salt, nutritional yeast, garlic powder, and apple cider vinegar to a blender or food processor and blend until a smooth sauce is formed.

Add tomatoes to a baking dish and drizzle with olive oil, salt, and pepper. Add the "feta" sauce to the baking pan, with the tomatoes surrounding it. Bake in the oven for 35 to 40 minutes until the tomatoes have burst.

Stir with a spoon until the tomatoes and sauce are mixed together. Add a handful of spinach and basil. Pour in pasta and mix until pasta is coated with sauce. Enjoy with fresh cracked pepper or red chili flakes.