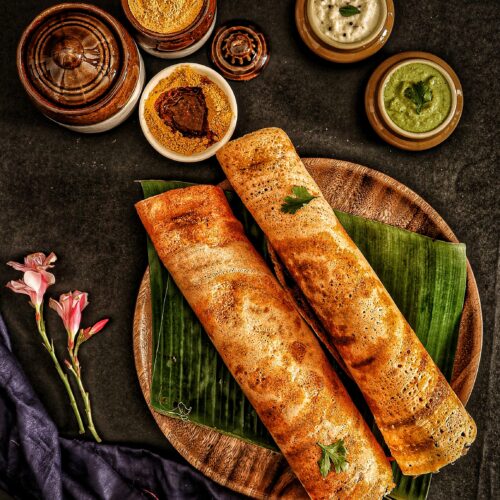 Indian Dosas
Equipment
2 Medium sized bowls

1 Blender

1 cast iron pan or griddle
Ingredients
2

cups

medium or long grain rice

2/3

cup

lentils

1/2

tsp

fenugreek

1

tsp

kosher salt
Instructions
In a medium sized bowl, add rice and rinse until water is clear. Once the water rinses clear, add more water to cover rice and soak overnight. In another medium sized bowl, rinse lentils until water is clear. Add fenugreek and enough water to cover lentils. Soak overnight.

Pour one cup of the water the lentils were soaking in into a belder, drain the rest of the water from the lentils and rice and add lentils and rice to blender. Add 1 tsp of kosher salt

Blend until batter is smooth, making sure the grittiness of rice is gone.

Divide batter into two mason jars, filling both halfway. Cover with cheese cloth and metal mason jar ring to secure.

Let batter sit at room temperature for 16-24 hours until batter smells tangy. (Similar to the smell of yogurt)

In a cast iron pan or griddle (whatever pan you use to make pancakes) heat a little bit of ghee over medium high heat. Once melted pour out ghee and spoon batter into pan. Use back of spoon to smooth batter. Once dosa is ready to be flipped, add a little ghee on the top of the dosa and flip. Once cooked on both sides, remove from pan. Serve Hot!