Stay Hydrated
Summer is the perfect time to be outside enjoying the warm weather. It is important to remember that with the warm weather comes an increased need for adequate hydration. Remember to bring water with you when leaving the house and take frequent breaks to hydrate. If you will be outside for extended periods of time sweating or participating in vigorous activity an electrolyte replacement powder can be added to some water. It is best to choose drinks without added sugars. Flavor water with fresh fruits and herbs! The typical 64 ounces of water per day is often not enough for the summer with increased heat and sweating. Aim to increase your fluid intake to about 80-90 ounces for most women and 100-120 ounces for most men.
Keep your body moving
Use the warmer weather to your advantage by engaging in outdoor activities that will also help you meet your exercise or movement goals. Some examples of outdoor activities include swimming, hiking, bike riding, walking, tennis or kayaking. Some recommendations to keep in mind:
-Adults: 2.5 hours (150 minutes) of moderate-intensity aerobic exercise or 1.25 hours (75 minutes) vigorous-intensity aerobic activity per week
-Children and teens: 1 hour (60 minutes) of physical activity every day.
Remember that doing activities in the early morning and evening can help keep you out of the sun during the most intense mid-day heat. You can also split activity time such as 30 minutes in the morning and 15 minutes in the evening if that better works for your schedule.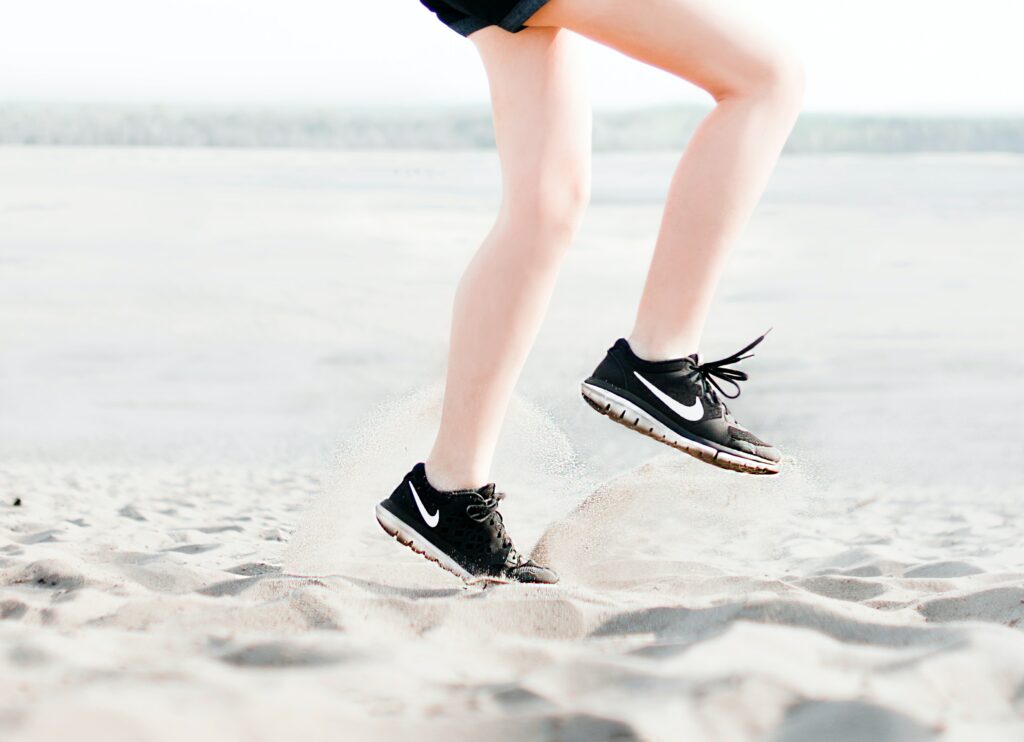 Take advantage of local farms for fresh produce
There are many local opportunities to visit farmer's markets and farms to get fresh produce while also supporting your community. Some New Jersey local summer produce includes asparagus, beets, blueberries, broccoli, chard, cherries, cucumbers, lettuce, oregano, radish, strawberries, summer squash and zucchini to name a few. This will also provide a great family outing! Tips for parents or caregivers of picky eaters: this is a great time to expose your child to new foods they may not typically eat in a fun and stress-free way!
Be mindful when eating out
A summer favorite for most is stopping at your local ice cream shop. We want you to know this is not something that you need to give up to maintain a healthy lifestyle! There are choices you can make to satisfy that craving while also keeping your goals in mind. First, keep portions in mind. A serving of vanilla ice cream (1/2 cup) contains about 13 grams added sugar. Aim for the kiddie or small size when ordering out. Second, topping choices can add additional flavor and nutritional benefit without adding extra added sugars. Choose nuts and fresh fruits instead of the caramel or fudge sauces to add additional fiber, protein and antioxidants to your ice cream treat. For those of you focused on blood glucose the added protein can also help curb that blood sugar spike along with increased satiety!
The American Heart Association recommends women limit added sugars to 24 grams per day and men 36 grams per day.
If you are headed to a summer BBQ or party the best tip is to bring something healthy you know you can add to your plate. Aim for a fruit salad, vegetable salad, or even some vegetables that can be added to the grill.
Make some sweet alternatives at home
Take some time to prepare sweet treats for you to keep in the house on those hot days! Examples include:
-Plenty of fresh cut fruit. By having fruit washed and cut you will be more apt to grab it when feeling hungry. You can get your kids involved by making fruit kabobs and can even make Greek yogurt dip (1/2 cup Greek yogurt mixed with 1tbsp PB and 1 dash of cinnamon) that you and the whole family can enjoy!
-Make your own popsicles. This is a favorite in my household! You can get a cheap popsicle mold at the dollar store and the flavor combinations are endless.
Some of our favorites include:
Greek yogurt with blueberries and strawberries
Unsweetened coconut milk mixed with pineapple and mango
Mint and watermelon
Greek yogurt and 100% orange juice (think creamsicle!)