As we enter the start of November there is one thing we can all get excited about –the start of the holiday season! This time of year is magical but can feel like a whirlwind. Often times people come out of the Holiday's feeling like they lost track of the healthy lifestyles they worked to maintain all year. Traditional holiday foods can be loaded with sugar, refined flours, sodium and saturated fats. While it is completely normal to indulge in some of your family's favorite treats, these tips can help you stay healthy throughout the holidays. Incorporating nutrient-dense foods into your spread can add fun color and may even start some new traditions for your family. This is a great opportunity to get your kids involved in cooking or preparing some fun holiday treats!
Provide colorful vegetables as your party favor.
Often, I hear from clients that they do not have control over what their family is eating when they are going to extended family's houses for meals. The best way to make sure there is a healthy item is to offer to bring it yourself! Kids love to play with their food so what better way that arranging sliced veggies into a Thanksgiving turkey, Christmas tree, or Hanukkah menorah! You can serve these vegetables with a protein-packed homemade ranch dip (see recipe).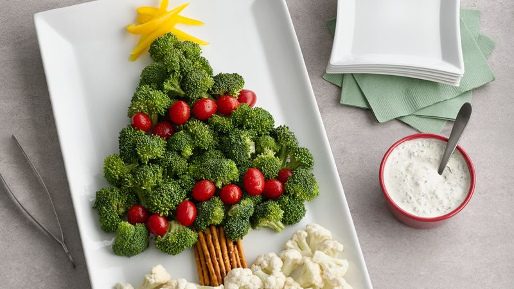 Encourage your family to eat the Rainbow.
Make it a game to see who can eat the most colors throughout the day. A lot of holiday foods tend to be beige, brown and white. This is a great way to encourage your children to not just fill-up on those dinner rolls but to also explore the vegetable trays provided. Maybe they will grab a plate and have a red tomato, orange carrot, yellow bell pepper, or green broccoli to check off those colors that they would normally pass up. Describe the textures and flavors together! This is also a great time to talk about how these foods give our body important vitamins to keep us from getting sick.
Maintain your normal eating pattern.
If your family is used to eating 3 meals and 1 snack it is best to stick to this pattern. This will better balance hunger throughout the day and allow your family to enjoy holiday favorites without overeating. It is best to avoid the idea of eating minimally throughout the day with the idea of "pigging out" at the dinner table.
Keep your family moving.
Depending on where you live the holiday time may also bring colder weather. Try not to let the cold inhibit movement. Bundle up and take your family ice skating, for a walk around the neighborhood to admire the lights, outside in the snow to build a snowman or a quick visit to the park before dinner. This provides a wonderful way to make memories and keep your little ones active.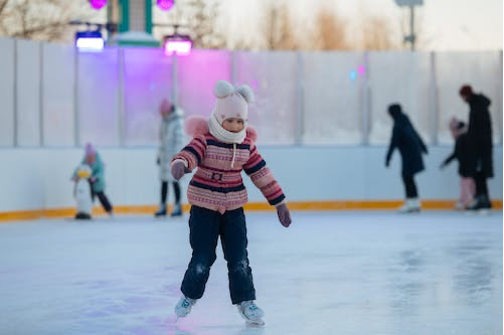 Most importantly, celebrate this season with your children and keep it stress-free!